Stephen, etc.
Mar 01
Asset class returns from 2003 - 2012 -
Here are asset class investment returns for 2012 from the Big Picture blog.
Feb 27
Here's my yearly update of all the lazy portfolios I track.
The Amazing Story of Addictive Junk Food -
Here's a pretty interesting article about how junk food is researched and created to appeal to us.
Jan 04
Various investment class returns in 2011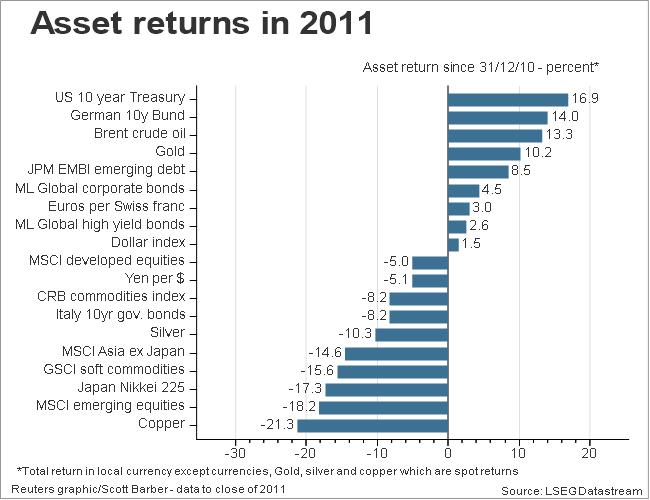 World Market Performance in 2011 -
The Economist lists the performances of major world stock markets by country.
Jan 02
This is a brief, not very detailed discussion of a Larry Swedroe portfolio idea I've seen discussed on the Bogleheads forum.    Swedroe has said that he has not published a book about it because most people would not understand it.
The idea is that you can greatly decrease the volatility/risk of a portfolio by increasing the bonds portion to around 80%.  BUT, you can still get good returns by putting the 30% equity into riskier stuff like small cap value stocks or emerging market stocks.
Sep 23
Grantham's thoughts on the current market -
Jeremy's Grantham's ideas are always worth listening to.  He recommend saying away from long bonds, but likes dividend paying stocks in emerging markets and EAFE (including Japan).
Aug 18
Morningstar: expense ratio a better indicator of success than star ratings -
A frank article from Morningstar showing that their star ratings are good, but lower expenses are better.
Always keep in mind that star ratings only indicate PAST success.
Joe Walsh's Unlikely Road to D.C. (from Chicago Tribune) -
Decent article from the Trib giving a lot of new (to me) info about Joe Walsh.   Aside from the "deadbeat dad" stuff the SunTimes covered, there are driving privelege and foreclosure issues.
Jul 27
Alternative investment ideas -
This article is interesting not because of paranoia about the possibility of U.S. debt default, but because it offers ideas on some relatively safe investments you might not think of - especially if you're an index investor like me.
A few percentage points in an investment that is not in lockstep with the U.S. market could help a long term portfolio.