Clearly, Stephen
Mar 01
Asset class returns from 2003 - 2012 -
Here are asset class investment returns for 2012 from the Big Picture blog.
Feb 27
Here's my yearly update of all the lazy portfolios I track.
The Amazing Story of Addictive Junk Food -
Here's a pretty interesting article about how junk food is researched and created to appeal to us.
Jan 04
Various investment class returns in 2011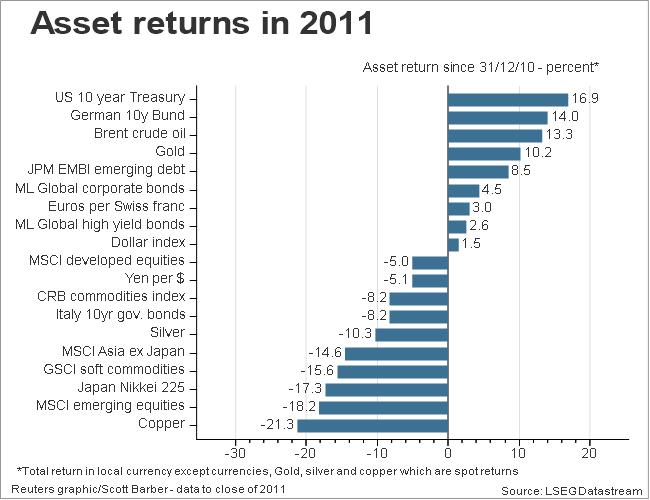 World Market Performance in 2011 -
The Economist lists the performances of major world stock markets by country.
Jan 02
6 not-really-ordinary portfolios from Kiplinger's -
I enjoy checking out new portfolio ideas like this.  Look at the wacky makeup of the Contrarian, Tofurkey, and Multi-asset portfolios.  There are some unproven ETFs in these portfolios, but it's worth remembing them to see how they do in the future.  They might provide some diversity.  
This is a brief, not very detailed discussion of a Larry Swedroe portfolio idea I've seen discussed on the Bogleheads forum.    Swedroe has said that he has not published a book about it because most people would not understand it.
The idea is that you can greatly decrease the volatility/risk of a portfolio by increasing the bonds portion to around 80%.  BUT, you can still get good returns by putting the 30% equity into riskier stuff like small cap value stocks or emerging market stocks.
General ETF Portfolios from Kiplinger's Personal Finance Magazine -
Here are some general purpose ETF portfolios from a 2009 edition of Kiplinger's.
Sep 23
Advisorshares ETF following Roger Nusbaum -
This is significant not because it's a new ETF or because Roger has a well known blog, but because it will allow you to get active management at, in theory, a bargain price .
I like mutual funds, especially cheap ones, but for whatever reason mutual fund managers usually stick with their stocks during times of crisis like 2008.  Now, to me, the idea of a professional money manager is that he can help you avoid some of the losses I'd normally incur in a year like 2008.   ETFs like this one can help us amateurs access the expertise of financial advisors who saw 2008 coming and did something about it.
If you like ETFs and you believe in dividends..... -
This is a good high level analysis of many ETFs that produce significant dividends.